Black Berkey Replacement Filters for Drip System - 2 or 4 Pack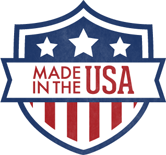 Due to state regulations, this product cannot be shipped to CA or IA. If you live in these states and attempt to order this, your order will be cancelled. 
The Black Berkey Filters are the industry standard for advanced filtration, providing approximately 3000 gallon capacity and a perfect fit into the Big Berkey Drip Water Filtration System. Removes all manner of water contaminates and far exceed EPA and ANSI/NSF (Std. 53) protocol for filtration levels. Available in packs of 2 or 4 filters. Along with the drip filtration system, a good supply of these filters is a perfect addition to your survival prepper supplies. Drip system not included.
Package Information
Black Berkey Filter
Approx. 3000 Gallon Filtration Capacity per Filter
Easy to Install
2 or 4 Pack
Black Berkey Gravity Fed Filtration Elements
The Black Berkey gravity water filter is designed to purify approximately 3000-gallons and is easily the most advanced filter available. The Black Berkey Filter is now the industry standard and has all competitors trying to achieve the levels of purification that it can provide. Because of it's unique ability to be cleaned, each filter will purify approximately 3000 gallons and is easy to install in your Big Berkey drip filter system and most other filter systems. The Black Berkey element has been lab and university tested and shown time and time again to be the best filter on the market. The Black Berkey Filter Elements have been tested and confirmed to remove or greatly reduce the contaminants listed below:
Viruses:  99.999% reduction
MS2 - Fr Coliphage
*Exceeds purification standards
Pathogenic Bacteria, Parasites, and Cysts:  Removed to non-detectable levels - 100% reduction
E. coli, Klebsiella terrigena, Pseudomonas aeruginosa, Giardia, Cryptosporidium
*Exceeds purification standards 
Trihalomethanes:   Removed to below detectable limits - 99.99999% reduction
Bromodichloromethane, Bromofore, Chloroform, Dibromochloromethane 
Inorganic Minerals:  Removed to non-detectable levels - 99.9999999% reduction
Chlorine
Heavy Metals:  Greater than 95% reduction
Lead, Mercury, Aluminum, Cadmium, Chromium, Copper
Volatile Organic Compounds:  Removed to below detectable limits - 99.9999999% reduction
Alachlor, Atrazine, Benzene, Carbofuran, Carbon Tetrachloride,
Chlorine, Chlorobenzene, Chloroform, 2 4-D, DBCP,
p-Dichlorobenzene, o-Dichlorobenzene, 1 1-Dichloroethane
1 2-Dichlorpethane, 1 1-Dichloroethylene, Cis-1 2-Dichloroethyiene
Trans-1 2-Dichloroethylene, 1 2-Dichloropropane
Cis-l 3-Dichloropropylene, Dinoseb, Endrin, Ethylbenzene
Ethylene Dibromide (EDB), Heptachlor, Heptachlor Epoxide
Hexachlorobutodlene, Hexachloro-, Cyclopentadlene, Lindane
Methoxychlor, MTBE, Pentachlorophenol, Simazine, Styrene
1,1,2,2-Tetrachloroethane, Tetrachloroethylene, Toluene
2,4,5-TP (Silvex), 1 2 4-trichlorobenzene, 1 1 1-trichloroethane
1 1 2-trichloroethane, Trichloroethylene, o-Xylene, m-Xylene