Replacement Bulkhead Fitting for Water Tanks (2 pack)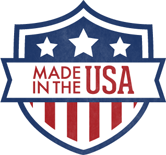 We use robust bulkhead fittings on our tanks. These are the same ones we use on our tanks. This item includes 2 replacement bulkhead fittings. The post-half (with the thick rubber gasket on it) is fed through the inside the tank and through one of the 1.5 inch holes drilled in the tank. The nut-half (with the hard plastic gasket under it) is them threaded and tightened onto the post-half for a strong, waterproof seal.
Hard, sturdy plastic
3/4 inch female pipe threads on inside
1.5 inch male threads on outside (the hole these are mounted in is 1.5 inches)
This BPA Free Bulkhead replacement fitting fits the following tanks: 35, 55, 160, and 260 gallon Water Prepared tanks.