Big Berkey Stainless Steel Drip Filter System - 2 Black Berkey Filters (approx. 6000 gal.)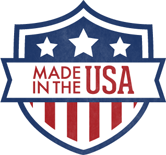 Due to state regulations, this product cannot be shipped to CA or IA. If you live in these states and attempt to order this, your order will be cancelled. 
The Big Berkey gravity drip water filter system is made of stainless steel and is the perfect solution for emergency water filtration, daily countertop use, or outdoor activities. Because it requires no electricity or pump, it is the ideal high capacity filtration solution for your emergency supply. Includes 2 replaceable, Black Berkey high capacity filters with an approximately 3000-gallon capacity each (approx. 6000 gallons total). Replacement & expansion filters available.
Package Information
Food Grade Stainless Steel
Portable, Heavy-duty Containers
Black Berkey Filters, Best in the Industry
Filters approx. 6000 Gallons of Water
Big Berkey Water Filtration - Gravity Fed Drip System
This reliable and portable water filtration system is designed for emergency preparedness applications but can also be used as a daily use countertop filter, or for other outdoor applications like camping. The Big Berkey water filtration system uses gravity to filter water in the upper chamber through the filter element(s) into the lower chamber where the clean, filtered water is collected. Manufactured from 304 grade polished stainless steel which offers a durable, lightweight, and portable means of filtering drinking water anywhere in the world with no pump or electricity required.
The Big Berkey Filtration System holds up to 4 filter elements (2 filters included), but will function with fewer filters in place. More filters makes for faster filtration. Plugs are provided to stopper unused filter slots. Black Berkey Filters are the industry standard when it comes to filtering and providing safe, clean drinking water. These high capacity filters provide up to 3000 gallons per filter, and 2 are included with this package. With 2 filters in place, the Big Berkey can filter up to 3.5 gallons per hour and is ideal for up to 8 people. 

Big Berkey Stainless Steel Drip System Features -
Total Capacity: 2.25 Gallons
Ideal for up to 8 people.
Can filter 3.5 gallons per hour
No electricity or manual pump needed
Place untreated water in the top reservoir. Clean, filtered water from the tap
Perfect for natural or municipal water sources
For everyday use, outdoor applications and survival prepping
Plugs for unused filter slots
Comes with two Black Berkey approximately 3000-gallon (ea). filters
Holds between one and four filters at a time
Portable, lightweight, durable and high capacity filter
Easy to use, simple to maintain
The perfect survival supply water filtration solution 
(water not included)