55 Gallon Blue Emergency Water Storage Barrel w/water treatment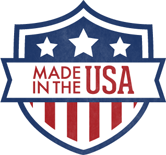 *** Please Note, 55 Gallon Water Barrels cannot be shipped to AK or HI. Sorry for any inconvenience! ***
If you have ever stored water in the old blue 55 gallon barrels with no water pump or spigot, it is time for a serious upgrade. Our heavy duty storage tanks hold up to 55 gallons of water each, are stackable, take up less space than the old barrels, and have the pipe fittings needed for simple access to your water supply during an emergency. BPA-free, Made in the USA and made from FDA-approved food grade materials, these 55 Gallon Barrels are absolutely the best!.
Package Information
55 Gallon Water Storage (water not included)
Water Treatment Kit Included
Heavy-duty Stackable Containers
BPA Free, Food Grade Plastic
Made in the USA
Water Prepared 55 Gallon Emergency Storage Barrel
The most common water storage option in emergency preparedness circles has to be the 55 gallon blue barrel, with the flimsy lid and no spigot or water pump included. If you are still using those old barrels, it's past time to upgrade with our New! 55 Gallon Blue Water Storage Tank. These heavy duty tanks take up a smaller footprint, are Made in the USA, and are both BPA-free and use FDA-approved food grade materials. They each include a built-in spigot threaded to fit a standard garden hose for easy access to your water. The tanks are also stackable, allowing you to get more water storage out of the space that you have available. Add a couple of these tanks to your emergency storage, water is the most critical thing you have stored to help get through an emergency situation!
55 Gallon Water Storage Barrel Key Benefits -
Each Tank: 55 gallon capacity (water not included)
FDA approved and BPA free
UV Resistant Plastic
Made in the USA
Stackable & Connectable
Fits through standard doorway
Each order includes a water storage treatment kit
Several convenient valves and connectors
Empty Weight: 20 Lbs

22"x28"x30"