35 Gallon Utility Water Storage Tank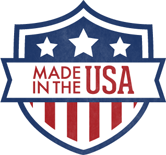 *** Please Note, 35 Gallon Utility Water Barrels cannot be shipped to AK or HI. Sorry for any inconvenience! ***
Finding the right water storage tank for your outdoor adventures has never been easier! Introducing the 35 Gallon Utility Tank from WaterPrepared! With built in handles, slots for trailer straps, and metal spigot, this heavy duty water container is ready to go where you are! BPA-free, Made in the USA and made from FDA-approved food grade materials, these 35 Gallon Utility tanks are ready for the open road and great outdoors! And when not on the go, they work perfectly for long term water storage in your emergency storage!
Package Information
35 Gallon Utility Water Tank (water not included)
Heavy-duty Container
Built-in Strap Slots
BPA Free, Food Grade Plastic
Made in the USA
Water Prepared 35 Gallon Utility Water Tanks
Whether you are looking to add a portable water storage tank to your RV or looking for a heavy-duty tank to throw on your trailer, the 35 Gallon Utility Tank from Water Prepared is the best option on the market, period. With built-in trailer straps, this convenient tank is ready to go wherever you are. And with conveniently located handles, moving it to where you need it to go is easier than any other utility tank out there.

Made here in the USA, we use only BPA-free and FDA approved materials to make it safe for drinking water. And with a 5" cap on top for quick filling, this tank is incredibly well-designed and made for convenience. And when you aren't on the road or exploring the great outdoors, this versatile tank fits nicely in your emergency supplies as another source of long term water storage.

Add a couple of tanks to your supplies, you won't ever regret having more water storage!
35 Gallon Utility Water Storage Tank Key Benefits -
Each Tank: 35 gallon capacity (water not included)
FDA approved and BPA free
UV Resistant Plastic
Made in the USA
Built in straps for strapping down to RV, trailers, etc.

Fits through standard doorway
Several convenient valves and connectors

Empty Weight: 16 Lbs

20.25 Width x 30 Length x 22.5 Height