30 Gallon Stackable Water Storage Tank w/ Water Treatment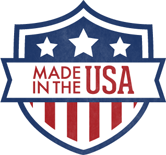 Water storage may be the most important part of your emergency supply and is often overlooked. To simplify, we have created a 30-Gallon Water Tank that provides a 1-month supply(1 Gallon per day) of water for an individual, as well as water treatment for long-term storage. These durable, heavy-duty tanks come with a built-in spigot for easy access to your water. Add one of these to your supply today!
* Please note, this product cannot be shipped to Alaska or Hawaii *
Package Information

30 Gallon Water Storage (water not included)
Heavy-duty Containers
BPA Free, Food Grade Plastic
Stackable, Water Treatment Included
Emergency Water Storage Barrel - 30 Gallon
The general rule of thumb is to store 1 gallon of water per day per person for emergency situations. The easiest way to do that is a 30-Gallon water tank from Legacy. These tanks are made from heavy-duty, BPA-free plastic and provide you 1 month's worth of water for 1 person. And since you can stack them, they make for a very convenient and effective way of storing emergency water.
Each water tank comes with a built-in spigot with hose bibb for easy and convenient access to your water. The large, 2" opening at the top makes filling your 30-gallon water tank simple and each tank comes with cap included and a water treatment kit to prepare your water for long term storage. We would recommend that you have at least one of these tanks for everyone in your home, including your pets!
These 30 Gallon water tanks can also be strapped down to use in truck beds, RVs, horse trailers or for other recreational activities. Make sure that you put the tank in place before you fill it though, because these will weigh in excess of 250 lbs once filled. The heavy-duty construction makes for a long lasting, rugged, durable water storage tank.

30 Gallon Water Tank Key Benefits - 
Heavy Duty, BPA Free, Food Grade Plastic
Height - 21.25" x Width - 19.5" x Depth - 24.5"
30 Gallon Capacity (water not included)
Filled Weight: Approximately 260 lbs
2" Top Opening with Cap 
Upgraded Built-in Metal Spigot with Hose Bibb (Replaced yellow plastic spigot)
Stackable
Tie Down Friendly
Portable and Reusable

Dark Blue - Restricts light and growth of harmful bacteria
Water Treatment Kit Included
*** Recommended for upright storage, no more than 2 high. While they could withstand being stacked higher without damage, our concern is that they could tip over. If the top tank was filled and fell on someone, it could cause lasting damage, even death. ***