SMS Subscriber Exclusive Sale
If you know the coupon code from the text message, take 20% off these Freeze Dried Meat and Entree buckets. This exclusive offer is only available for SMS subscribers that have the coupon code! Please don't share it with others, we only have a limited amount of these ready to go and wanted you to have the first chance at them. Thank you for subscribing and being a loyal fan and customer!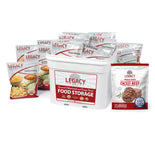 The 79 Serving Meat and Entree Combo bucket from Legacy Food Storage combines two of our favorite things: delicious, hearty entrees and succulent freeze dried beef! This combo...
Learn More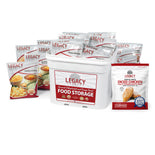 Adding freeze dried chicken to Legacy Premium entrees has been a fan favorite for a long time and just got a bit simpler. Introducing the Freeze Dried Chicken and Entree...
Learn More