Survival Storage Drink Packs
One of the best ways to add vitamins, nutrition and calories for energy in your survival food storage is with food storage drink packs from Legacy. These drink packs mix easily by just adding water. Enjoy a variety of drink options for your survival supply.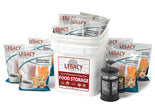 Having a supply of ground coffee in your food storage pantry for emergency situations not only gives you the energy you need to endure difficult times; it also provides a sense of...
Learn More