FIFO™ Can Tracker by Shelf Reliance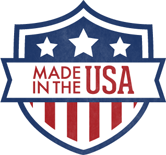 Fulfilled by our friends at Shelf Reliance
The FIFO™ Can Tracker food storage organizer rotates your cans in first in, first out so you won't have to worry about expiration dates again! 
Its easy-fit-design also lets you store up to 54 standard 10-15 oz can sizes, like soup, sauce and vegetable cans. It's sized at 12" H x 16" W x 16" D, to fit perfectly in your existing cupboards and cabinets. Connect additional units side by side to expand your storage. 
*Packages sold by weight
The FIFO Can Tracker has two can rotation levels. When the top row has finished rotating, the middle track will begin to rotate through.